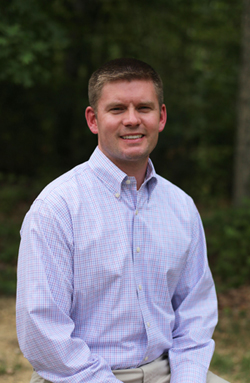 Dr. Jason E. Martin was born in Stanfield, NC, grew up in Albemarle, and is proud to call Stanly County home. He graduated high school in the small town of West Jefferson, NC and went on to attend Wake Forest University where he earned a B.S. in Health and Sports Medicine. Dr. Martin then worked for The University of North Carolina Hospital as a Physical Therapy Technician. After he received his Doctor of Dental Surgery degree from UNC-Chapel Hill he and his wife moved to Fayetteville where he completed Residency and earned a certificate in Advanced Education in General Dentistry at the Veterans Affairs Medical Center.  He is a member of the American Dental Association, The North Carolina Dental Society, and The Academy of General Dentistry.
Dr. Martin's mission is to provide quality dental care for the entire family. "It is our goal to always provide our patients with comprehensive, caring, and up-to-date dental treatment. We will treat our patients with respect and always aim to meet their every dental need. We are dedicated to improving the overall oral health of Locust and the surrounding communities. Additionally, we will be active members of the community and eager to support community causes. Our patients can always trust in the fact that we will continue to seek new and improved ways of treating their dental needs with the utmost care and precision."
Dr. Martin met his wife, Amy, while working at The UNC Hospital and they married in 2004. They have two daughters, Avery and Hadley and a son, Cole. Dr. Martin's studies took him all over NC but he knew he wanted to come home to Stanly County one day to practice Dentistry and raise his family. He and his family have lived in Locust since 2006 and are proud to be a part of such a close-knit and caring community.  In his spare time, he is a pilot, an avid fisherman, enjoys hunting, and loves spending time with his wife and children. Dr. Martin is a professing Christian and he's taken several mission trips to Honduras performing Dentistry and spreading the Gospel of Jesus Christ.
---
Dr. Brune is a native of Charlotte and received his undergraduate degree from North Carolina State University. After undergrad he received his Doctor of Dental Medicine from East Carolina University School of Dental Medicine. Dr. Brune is a member of the American Dental Association and the North Carolina Dental Society. Dr. Brune truly enjoys all aspects of family dentistry and offers his patients a broad range of treatment. He regularly attends continuing education courses in order to provide his patients with the latest dental treatment. When away from the office he greatly enjoys spending time with his wife Kathryn and daughters Lennon, Aela and Pierson. He also enjoys going to sporting events, outdoor activities and spending time with friends and family.
---
Amy, Bookkeeper

Amy, Dr. Martin's wife, over-sees the business operations and keeps financial records for the practice. She was born in Dayton, Ohio and received a B.S. in Occupational Therapy from Ohio State.  She has two daughters, Avery and Hadley and a son, Cole.  Amy enjoys spending time with her family and cooking.

Heather, Financial Coordinator

Heather will work with you to maximize your insurance benefits and prepare a financial plan for your treatment. She received a bachelor's degree in Management Information Systems/Human Resource Management from UNC-Charlotte. She enjoys going to her son's soccer, basketball and football games.


Katie, Registered Dental Hygienist

Katie has worked with Dr. Martin since graduating from Forsyth in 2007 and really loves making her patients' smiles beautiful. She enjoys spending time with her husband and three children. In her spare time Katie is a professional photographer and loves to capture special moments in her friends' and family's lives.

Leslie, Registered Dental Hygienist

Leslie has worked with Dr. Martin since 2008 shortly after graduating from CPCC.  She feels like her patients have become family. Leslie and her husband are very active and some of their favorite things are playing outside with their children and attending church.

Teri, Dental Assistant II

Teri has worked with Dr. Martin since 2010. Her bubbly personality is contagious and she will do everything she can to help your experience with us be a positive one. She lives in Ridgecrest with her husband Darrell and dog Grover Dale. She enjoys reading, binge watching TV shows and spending quality time with friends and family.

Brittney, Front Office Coordinator

Brittney is the first face that you will greet you when you come in the office. She was born and raised in Locust and in 2017 moved to Hawaii for a year. She has two children and loves football and traveling.

Madalyn, Registered Dental Hygienist

Madalyn completed her degree at Central Carolina Community College and was licensed in 2012. Upon graduating she was awarded the Hu-Friedy Golden Scaler and Outstanding Student in Dental Hygiene. She loves spending time with friends and family at the beach and on the lake.

Jaime, Dental Assistant II

Jaime was born and raised in Oakboro. She recently married her husband, Conner. When not at work she loves spending time with her family and two dogs.

Kristi, Registered Dental Hygienist